‹ Back to listings
An Important 18th Century George III Satinwood and Sabicu Writing Cabinet
#2896
A fine late 18th Century George III Satinwood and sabicu ladies writing cabinet with important provenance. (Possibly by George Simpson)
English London made - Circa 1785
Provenance
Exhibited by W. R. Harvey in their Old Bond Street showrooms in 1986 and 1987, the piece being chosen to be advertised in Country Life magazine in 1986 and in the Grosvenor House Antiques Fair catalogue in 1987.
A private European collection.
This very elegantly drawn writing cabinet is constructed with the finest cuts of satinwood, banded with sabicu and strung with boxwood. The shaped and inlaid pediment with vase finials above a pair of glazed doors with patera-inlaid scrolled lower supporting brackets, over a pair of doors inlaid with oval mahogany panels enclosing pigeonholes, drawers and central lockable door. The lower section writing desk with in-curved front corners, with pull out writing drawer fitted with ratcheted reading slide, pen and crystal ink wells. The whole raised on slender tapering legs, headed with inlaid oval patera and strung with boxwood having collared feet.
An exceptional quality piece in superb original condition and of wonderful colour.
Dimensions
Width 34 inches - 86cm
Height 73 inches - 185cm
Depth 25 inches - 63.5cm
Ref 2896
More research on this design and possibly maker below.
The secretaire section of this piece is based on a plate in Chippendale's Director depicting a "Lady's Writing Table and Bookcase".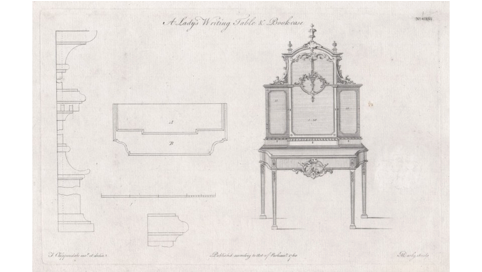 However the overall form has been softened in the Sheraton manner with slimmer tapering legs with collars rather than the block feet suggested by Chippendale. Additionally, the breakfront doors in Chippendale's design have been substituted for a simpler pair of doors but with a much more elaborate series of pigeon holes in the middle section.
The choice of the finest cuts of veneer and the beautifully-executed astragal glazing bars are further evidence of quality and the piece was clearly executed by one of the major workshops of the period. Although it is very difficult to make an attribution for such an unusual piece of furniture with no well-recorded comparatives in museum or stately home collections, it is possible that this piece might have been the work of George Simson, a cabinetmaker and upholder based in St Paul's Churchyard in London. Simson is best known today for a series of fine secretaire cabinets made for Thomas Weeks and his museum in Tichborne Street. These Weeks cabinets survive in several museum collections including Temple Newsam in Leeds.
In his Pictorial Dictionary of Marked London Furniture 1700-1840, Christopher Gilbert illustrated many pieces of furniture with Simson's trade label. Illustrated below are two of these pieces which all bear some stylistic similarities to our writing table although, as stressed above, this attribution
can only be tentative at this stage along with there being an unusual amount of labelled items by this George Simpson. So many top makers, such as Mayhew and Ince etc did not sign or label their work as the majority of furniture at this level were made for private commissions. Labelling tended to be restricted to items that were for sale in a shop.
Nevertheless this fine piece would have been supplied by a top London maker.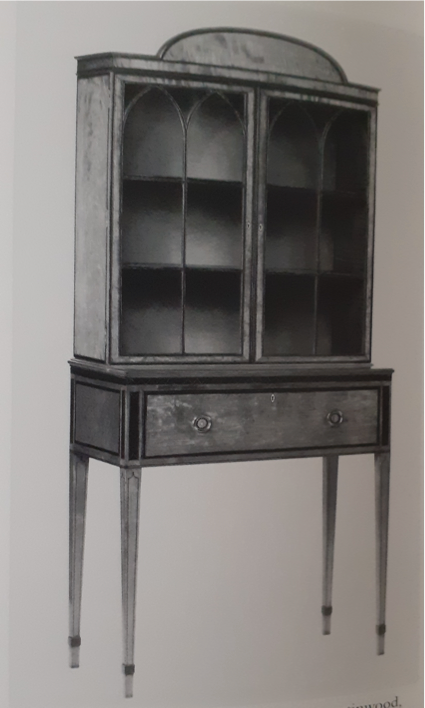 In particular, it is interesting to note the comparatively large number of writing cabinets that bear Simson's trade label and the lavish use of satinwood. Despite Percy MacQuoid's use of the term "The Age of Satinwood" to describe furniture produced in England in the late 18th century, the timber itself was still used on comparatively few pieces produced during this period-certainly as the primary veneer.
Our Piece in Print
As mentioned earlier, our piece was owned by the dealers W. R. Harvey in the late 1980s and it featured in two of their exhibitions-The Elegant Quarter-Satinwood and Related Furniture 1785- 1810 (held in 1986) and The Englishman's Library 1700-1830 (held in 1987). The first exhibition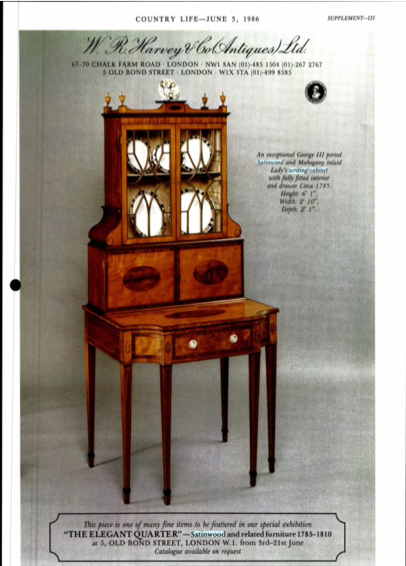 was advertised with a full page advert of the piece in Country Life
and the second exhibition was advertised in the back of the Grosvenor House Antiques Fair catalogue for 1987. The Harveys were not exhibitors at the fair but chose the catalogue as a way of capturing the attention of all serious furniture collectors at the time.
Additionally, our research has revealed that a very closely related piece, almost certainly from the same workshop, was advertised in Connoisseur Magazine by the dealers J. W. Needhams of Manchester in September of 1923.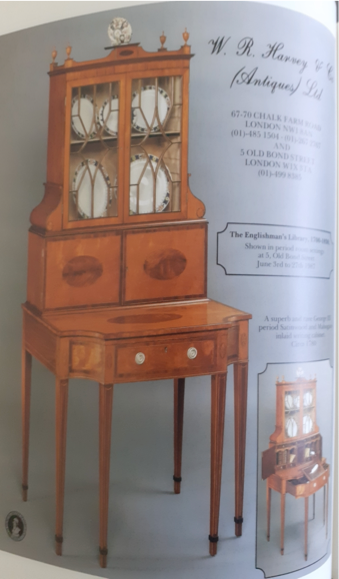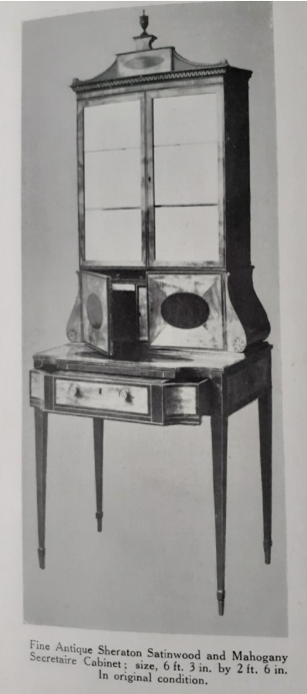 Our piece is a highly individual treatment of the lady's writing table that would appeal to the
connoisseur collector looking for a statement piece of satinwood furniture.
Width: 34 inches - 86cm
Height: 73 inches - 185cm
Depth: 25 inches - 63.5cm
Delivery of products is based on weight. Some products are not available for delivery, and will be collection only. For more information on delivery costs, please click here